Quaid-E-Azam Day: 50+ Best Messages, Quotes & Images
A public holiday in Pakistan commemorating the birth anniversary of Pakistan's founding father, Muhammad Ali Jinnah. Quaid Day, which falls on the 25th of December every year, is one of Pakistan's most popular public holidays, with every Pakistani gathering together to commemorate their country's founding father's birthday. On this Quaid-e-Azam Day let us spread the message of love and friendship throughout the nation of Pakistan.
Quaid-e-Azam Day: Messages & Wishes
Quaid-e-Azam Day: Quotes
Quaid-e-Azam Day: Messages & Wishes
Happy birthday to the person who is credited to have organized the Indian Muslims and led them in their struggle to create a separate homeland.
No power on earth can undo Pakistan
Nothing is more precious than Independence & Liberty. We thank Jinnah for gifting us with Pakistan. May he is blessed with the highest ranks in Jannah. Happy Quaid Day!

On this Quaid-e-Azam Day let us remember the sacrifices made by Muhammad Ali Jinnah to create a separate homeland for the Indian Muslims.
On this Quaid-e-Azam Day, we pray to Allah Almighty that the great soul of Muhammad Ali Jinnah blesses us always.
Life without liberty is like a body without spirit. Ask worth of independence from Kashmiris and pray for the maghfirat of Quaid e Azam.
On Quaid-e-Azam Day we all feel so proud to have been represented by a stalwart like Muhammad Ali Jinnah.
Happy Birthday to Great Quaid! May all his dreams about the Homeland come true! Let's join hands and move ahead to pay tribute to our Father of Nation! Salam Quaid! Salam Pakistan!

Happy Quaid Day, Pakistan! Undoubtedly, we are one lucky nation to have one of the greatest political leaders of the human race, as OUR Quaid!
On this Quaid-e-Azam day let us take the pledge of following the footsteps of our inspirational leader Muhammad Ali Jinnah.
Quaid-e-Azam means the Great Leader and no one deserves it more than the creator of Pakistan, Muhammad Ali Jinnah.
Happy Jinnah Day. Happy Birthday to Man of Actions, not Words! Pay Tribute To The Man Who Taught Us The Meaning Of Freedom… JINNAH…! Tuje Salam.
Quaid-e-Azam Muhammad Ali Jinnah taught us to see a dream and protect it through hard work, sacrifice and dedication.

On this Quaid Day, let's pay tribute to the great man who once said, "No nation can develop without the emancipation of women.
The spirit of Jinnah will continue to motivate the coming generations of Pakistan for many years. Let's all of us celebrate the birthday of our Father of Nation.
Happy Jinnah day! May we have the strength and perseverance to make Jinnah's dream and vision for Pakistan a formidable reality.
Jinnah was the leader of the highest caliber and on Quaid-e-Azam Day the present leaders of Pakistan should promise to fulfill all his dreams.
Here Are Some Inspirational Quotes For Quaid-E-Azam Day That You Can Share With The World On That Day On Your Social Media Profile.
Quaid-e-Azam Day: Quotes for You
"There are two powers in the world; one is the sword and the other is the pen. There is great competition and rivalry between the two. There is a third power stronger than both, that of the women."
― Muhammad Ali Jinnah
No struggle can ever succeed without women participating side by side with men. ― Muhammad Ali Jinnah
"Democracy is in the blood of the Muslims, who look upon complete equality of mankind, and believe in fraternity, equality, and liberty."
― Muhammad Ali Jinnah
"Few individuals significantly alter the course of history. Fewer still modify the map of the world. Hardly anyone can be credited with creating a nation-state. Mohammad Ali Jinnah did all three."
― Stanley Wolpert, Jinnah of Pakistan
"You will have to make up for the smallness of your size by your courage and selfless devotion to duty, for it is not the life that matters, but the courage, fortitude, and determination you bring to it."
― Muhammad Ali Jinnah
We are starting in the days where there is no discrimination, no distinction between one community and another, no discrimination between one caste or creed and another. We are starting with this fundamental principle: that we are all citizens, and equal citizens, of one State. ― Muhammad Ali Jinnah
"India is not a nation, nor a country. It is a subcontinent of nationalities."
― Muhammad Ali Jinnah
With faith, discipline, and selfless devotion to duty, there is nothing worthwhile that you cannot achieve.― Muhammad Ali Jinnah
Think 100 times before you make a decision, But once that decision is taken, stand by it as one man. ― Muhammad Ali Jinnah
Think well before selecting your leader, and when you have selected him, follow him. But in case you find his policy detrimental to your interests, kick him out. ― Muhammad Ali Jinnah
I do not believe in taking the right decision, I take a decision and make it right. ― Muhammad Ali Jinnah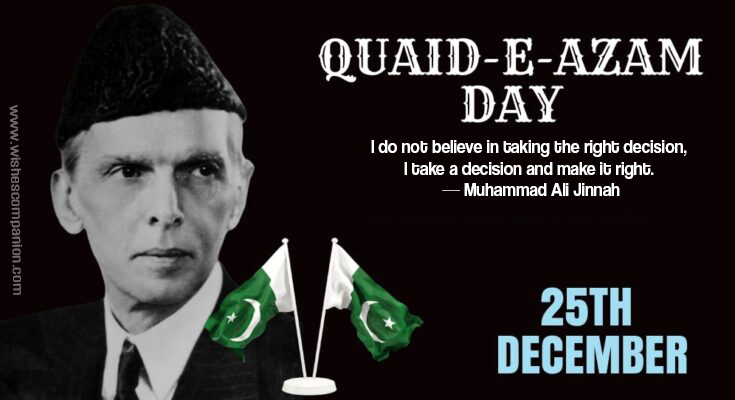 "Islam expects every Muslim to do this duty, and if we realize our responsibility time will come soon when we shall justify ourselves worthy of a glorious past." Muhammad Ali Jinnah ― Muhammad Ali Jinnah